Release Date
Nintendo 3DS
US : November 22, 2013
Japan : December 26, 2013
Europe : November 22, 2013
Australia : November 23, 2013

Developer
Publisher : Nintendo 
Developer : Nintendo EAD
Director : Hiromasa Shikata
Producer : Eiji Aonuma

Game
Genre : Action, Adventure
Platform : Nintendo 3DS
Game Type : Game Cartridge
Mode : Single Player

Ratings
ESRB : E (Everyone)
Reviews
Metacritic : 91%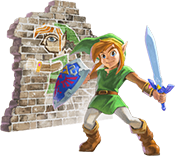 Link Between Worlds is the first 3DS Zelda title, as well as a sequel to Link to the Past, although the story, dungeons, and mechanics are entirely original.
Link Between Worlds is the first Zelda title in which Link can complete any dungeon in any order, as Link doesn't find his items in the dungeons but instead must "rent" items from the merchant, Ravio. Link will lose these items if he dies, but eventually Link will be able to purchase the items permanently once he has obtained the three pendants of virtue.
Similar to Link to the Past, Link Between Worlds has a light world (Hyrule) and a dark world (Lorule), and Link must transverse both to complete the game. A major part of the gameplay revolves around Link's ability to "merge" into certain walls which allows him to move past areas he would be otherwise unable to. It also allows Link to enter dimension cracks to travel between Hyrule and Lorule.